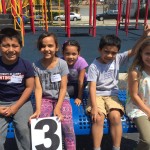 Melanie, David, Jasmine, Erik, Valeria, and Ivan. Carter, Emma Grace, Isabella, Bryce, and Braxton. The first group of kids listed reside in the Avondale neighborhood of Chicago, while the next group lives here in Lexington, Kentucky. Other than that, really they all are as the saying goes, "the same kind of different."
We met these young and energetic kids during a soccer camp-bible school that Dana, our kids and I participated in. Emma and Dana led serving the snacks and drinks, while Carter and I led a group of the kids to the soccer stations and games, and to the bible lessons. Pastor Dave Andreson from Ressurection City Church and Pastor Jeff Story from Immanuel Baptist Church organized the camp for the kids in the local neighborhood.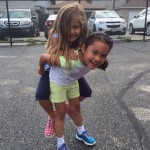 Going into the camp, I must admit I was a little nervous. I mean, we were different. What would we talk about? But within a few minutes of meeting these kids, I realized my problem that caused my anxiety: I was focused on our differences, and not our similarities. After that first day of camp, these kids already felt like family.
All the kids played with each other as only children will do; it's so fun to see young children that are complete strangers just gel and have fun. They laughed and smiled when they made a goal. They got discouraged when they had trouble with a drill. Often they needed a water break or a bathroom break at the wrong time (you know, like in the middle of a game!). They couldn't get enough snacks and lemonade at break. They always looked to an adult for encouragement and support, usually with a high five or fist bump. During the camp, the similarities abounded.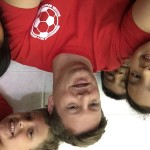 It was tough to finish the week and say good-byes to the kids. Several times I heard disappointed voices ask "Is this really the last day?!" and "When are you coming back?!" Overall the kids seemed joyful, but I could tell many of them longed for more attention. One child, Ivan, who was 7 years old and was not in my group, often gravitated towards me during sessions. We would talk and laugh and give fist bumps when a team scored a goal. On the last day of the camp, he gave me a small Lego toy soccer player. I tried to convince him to keep it, but he said it was a gift for me. I told him I was honored and said "Thank you." This young boy is financially poor, but he has a heart that is rich and he wants, even more than toys, acceptance and love.
In the end, kids are kids. They truly are a blessing. So take a minute to thank God for yours and give them an extra-long hug, and say a prayer for the many great kids out there who need a hug, even more than a toy.
"Children are a gift from the Lord; they are a reward from him", Psalm 127:3.